Words and photos by Paul Maland
"We just write whatever feels right, and most of it just gets put under the label of grunge."
A band only one-year out of the starting gates, Larsen took five from rehearsing at Sunset Rehearsals to sit down and chat with us ahead of their massive EP launch at The Ed Castle this Friday. Having just dropped the video for their latest track, 'Follow', the band will be joined by Tomorrow Rising & Slick Arnold to help release their debut EP Another Realm, Another Day.
"They're just such high calibre bands, and good friends", the boys said in praise of their support acts.
The track for their latest video, 'Follow', was one of two tracks from the upcoming EP written solely by lead vocalist, Liam. "Eight months ago there were some demos being recorded at Sam's uni. Liam wrote Follow in about half-an-hour."
"I was just so stressed out, I was like 'can we just get this done?'" Liam said.
With collaboration as a strong focus for the boys, the track is joined only by Siren as the few tracks with just one writing credit."As soon as you bring something to the band, it's not yours anymore, it's the band's... We were just talking to someone before and they were saying 'I' a lot about their music, we don't do that." Bassist, Stevie, explains.
Although Liam is the main lyricist for the band, the tracks from Another Realm, Another Day have writing credits shared among all of Larsen's four members. #teamlarsen
"I never thought I'd write lyrics, I was shit. I mean, after the stuff that Ringo pulled out, who wants a drummer to write music?" Alex expanded.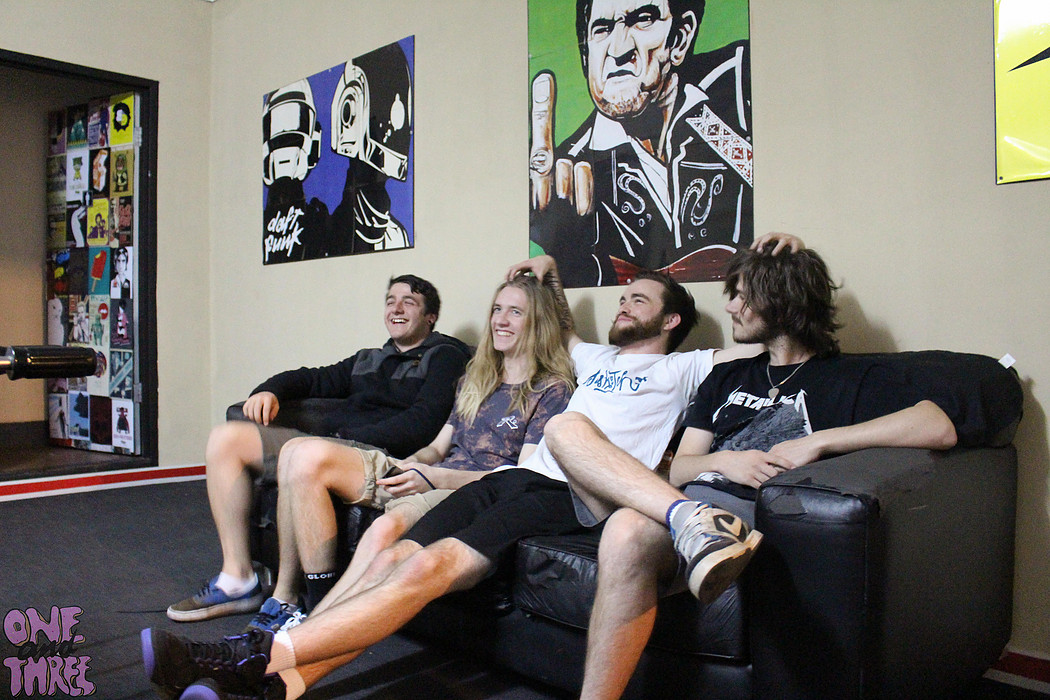 "Alex reads the most books; he's got the vocabulary. My songs tend to have the same words." Liam confessed to the group. "Liam's lyrics are super ambiguous and metaphorical, and way more open to interpretation than mine. In comparison, mine are like prose; like a story that rhymes. It's a lot more literal. It just brings more contrasting elements to the song-writing process." Alex said.
Larsen have played at local music institution Punk Ass Kids twice. Having never attended or played there before, Bassist Stevie had expressed apprehensions about the fortnightly party to the band, before becoming a regular. "I remember saying to Liam 'Dude, like, why are we playing on a Wednesday night?' Since then I've been there literally every fortnight" Stevie said.
"Jessi really focuses on giving attention to new acts.. Most of the people are there are in other bands or related to music, so the crowd really care about what's happening on stage" the band explains of legendary Jessi Lou, founder and organiser of PAK.
"They've always got such good bands. It's always a good night. I never look at the bands before I go anymore, I just know I'm gonna go and end up watching them anyway" Stevie gloats. "It's a good way of discovering new music in Adelaide.. When we put on a show, we make a mental note of bands we've seen at PAK that would fit our sound and energy" Alex adds.