Casey Lodge sat down to have a chat with Hanna Galbraith, one of the creators of the upcoming local web-series Runaway Moon. Contribute to the Runaway Moon crowd-funding campaign here.
Interview photos by Bryn Taylor, behind the scenes photos by Daniel Purvis.
"I think it's fun to trust in something mysterious and different."
Hanna Galbraith has a past as colourful as the outfit she wears when I sit down with her one cold Tuesday morning. Born in Mexico to a Canadian mother and Mexican father, the young actress' runaway life began when her mother escaped her abusive relationship and smuggled her over the border to America in a drug van.
After living in Canada for 12 years and moving to the Gold Coast, Hanna realised her passion for the stage at the Southbank Institute of Technology. Now living in Adelaide, towards the end of her degree Hanna's lifelong dream was realised when she was awarded a place at the prestigious Lee Strasberg Institute in New York.
Afterwards, Hanna did what she does best; ran away back to Adelaide with the purpose of creating her own exposure as a theatre actor on screen.
Enter Runaway Moon, a crowdfunded web-series inspired by the theme of "one night" and Hanna's own experiences on the streets. Describing it as "Thelma and Louise meets Skins", the actress says the series is a refreshing change from the usual material made about young people.
"It's about three young runaways living a life they want to escape; all extremely different, and they have to band together to help each other survive this one night," Hanna says.
"We really didn't want it to focus on feeling sorry for this poor girl, or having the typical "poor me" story about a lost homeless girl."
"All the characters are inspired by people I've met in my life, every event inspired by a memory."
Hanna believes wholeheartedly in letting her own life bleed into her artistic endeavours, saying art overall should be selfless and honest.
"The character Travis' father is a wealthy lawyer who wants him to undertake conversion therapy, and I knew a boy who had to pretend he was dating his best friend for six years and lie about his identity," Hanna recalls.
"We're dealing with a lot of issues; prostitution, sexuality, identity."
"We wanted to talk about those issues because we wanted to reach out to people who can relate to these issues and inspire them to be brave enough to reject it and turn their backs on living a comfortable life; to pursue who they really are."
Hanna pauses here, and her confident expression shifts into one more hesitant.
"For a time, I think I put myself in dangerous situations because I wanted to perhaps be unsafe, or I didn't value myself," she says thoughtfully, stirring her coffee.
"I wasn't necessarily brave enough to talk about that, but (director) Aaron pushed me to be honest, because otherwise what's the point of telling your story if you don't really get down to the cold hard truth?"
"We've talked to a few producers here and there about the series, and they've said stuff like "oh it's just not universal, there's no silver lining,"" Hanna says.
"There absolutely is a silver lining, that's why I'm telling the story, because I got out. I left all those bad people behind and I made a decision to leave."
"It would be an honour if my story affected someone going through the same sort of stuff."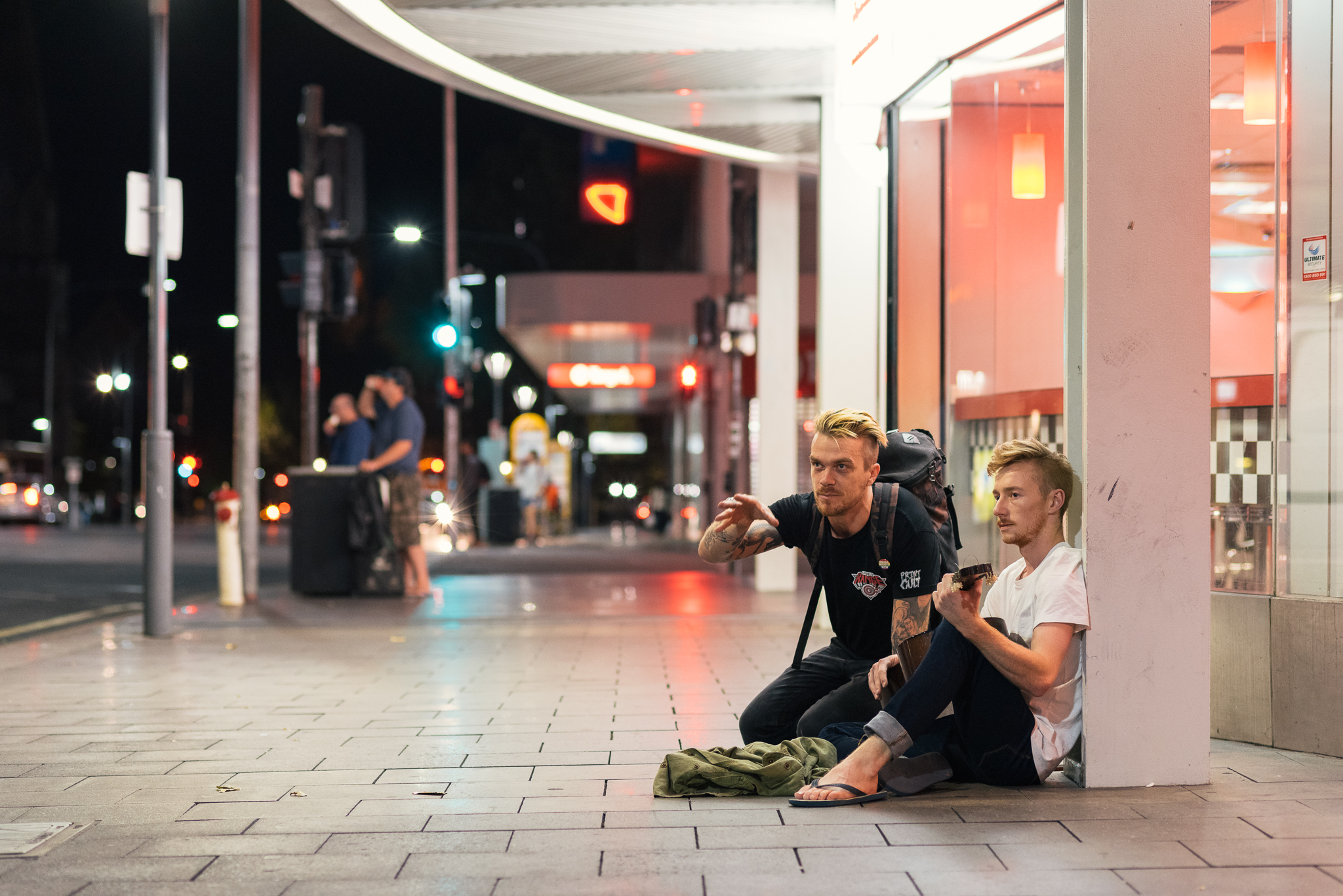 Both Hanna and director Aaron Schuppan deliberately wrote Runaway Moon to be a love-letter to Adelaide's culture and people, shooting around the CBD and showcasing local music acts such as Koral and the Goodbye Horses, Colibrium, and God God Dammit Dammit.
"Adelaide has the potential to become something like Oregon or those small pockets in the U.S. that produce these amazingly talented people, and we wanted to do that for the musos of Adelaide and give them that vehicle to showcase their talent," Hanna says.
"Aaron considers himself a musician's filmmaker more than a traditional one. Musicians love working with him because he wants them to have the exposure, and we both really believe in the musical talent Adelaide has to offer."
Hanna hopes both the familiarity of local acts and places, and the themes explored in Runaway Moon will resonate with young creatives.
"One of the main reasons I wrote this and the reason I had the theme of running away was that young people often feel lost, and that their creative contribution is not worth anything," she explains with some frustration.
"It's so disheartening and distressing to see things that young ensembles have built and then it being stripped away."
Hanna leans forward, eyes determinedly locked on mine as she speaks.
"I guess the main thing I wanted to ask someone who's watching Runaway Moon was, what are you running from? Are you running towards a better life for yourself and being true to yourself, or are you trying to follow somebody else's idea of what you should be doing?"
"What are you running from?"